SPEAKING

ELEMENTARY



1. ELEMENTARY SPEECHES
1. SUPER STUDENTS (K-5) (Recommended for first-time presentation)
Everyone loves super heroes, but students don't know how to apply that to their lives. Super Students teaches students that you don't need super powers to be a Super Student, just super choices. Brandon teaches how to be courageous and have character regarding bullying, leadership, mental health and making positive/healthy choices. Lots of interaction, humor, and impact! Your entire school and even the teachers will love this presentation!
Topics Covered: Leadership, Anti-Bullying, Mental Health, Character, Courage, and Responsibility.
2. Tools for Success (Grades 3+)
Students learn how to create a goal and utilize various tools for achieving success. Clarity and progress improves confidence and mental health.
Topics Covered: Goal-Setting, Mental Health, Responsibility, Self-Esteem, Purpose
3. Substance Abuse (Grades 3+)
Substance abuse can destroy potential. Goals, dreams, and lives can be ruined through addiction, accidents, and destructive choices. Brandon
presents this topic with a balance of fun and
seriousness while helping them know their line in which they won't cross.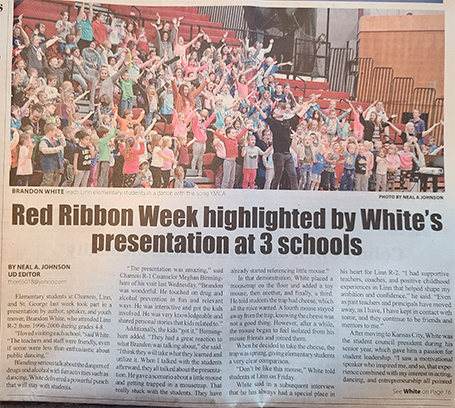 4. Swing/Salsa Dance Workshop (Grades 3+)
As a former ballroom dance instructor, Brandon teaches students teamwork, discipline, problem solving, and more through a fun group dance lesson. Students are organized on the gym floor into rows that rotate allowing students to interact with each other in a positive way. Build school morale with this workshop! (It's best to do this as a follow up to one of the presentations above.)
STEP IN STEP OUT
YOUTH BALLROOM
DANCE PROGRAM
(Grades 3-12)
Students learn SWING, MERENGUE, and
TANGO while developing CHARACTER SKILLS!
OPTION 1
Assembly Package
Kick-Off assembly speech
helping students transition to dance.

Group dance lesson (can divide into 2 groups)
OPTION 2
P.E. Package
Choose one grade or multiple grades to participate during PE classes (2-4 days)

Optional Graduation Ceremony

Optional Graduation Certificates
OPTION 3
Weekly Package
(Kansas City Area)
One of multiple grades per week for 4-6 weeks

Optional graduation ceremony and certificates
BOOKS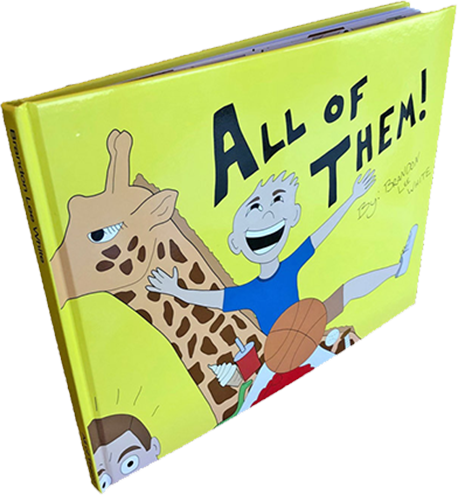 All of Them!
by Brandon White (Author)
Children's Book (Click HERE for preview)
Read about how a boy decides that "all of them" are his favorites, and watch how each scene comes to life with his favorite things. The boy has a great time making his father crazy by the messes left behind, but wait until his father gets him back… (Learn colors, foods, sports, animals, and more!")
All of Them! (Hardcover)