SPEAKING

ELEMENTARY



1. ELEMENTARY SPEECHES
Everyone loves super heroes, but students don't know how to apply that to their lives. Super Students teaches students that you don't need super powers to be a Super Student, just super choices. Brandon teaches how to be courageous and have character regarding bullying, leadership, mental health and making positive/healthy choices. Lots of interaction, humor, and impact! Your entire school and even the teachers will love this presentation!
Topics Covered: Leadership, Anti-Bullying, Mental Health, Character, Courage, and Responsibility.
Students need a purpose to work toward. They need to apply themselves to something meaningful for them. This improves confidence, mental health, and character. When they take ownership of their talents and opportunities, they can create some awesome moments and achieve great things. Brandon helps students create goals and take ownership of their power.
Topics Covered: Goal-Setting, Mental Health, Responsibility, Self-Esteem, Purpose
3. Mental Health (Grades 3+)
Brandon wrestled with clinical depression for 6 years and is able to relate to and understand the importance of mental health. In this elementary version, Brandon takes an age-appropriate approach to mental health by teaching healthy habits for our brain, how to ask for mental health help, and how to support one another with empathy and kindness.
4. Know Your Line (Grades 3+)
Substance abuse can destroy potential. Goals, dreams, and lives can be ruined through addiction, accidents, and destructive choices. Brandon
presents this topic with a balance of fun and
seriousness while helping them know their line in which they won't cross.
5. FACING FEAR (Grades 3+)
A student's ability to face fear and develop
resilience in times of crisis (personal of global) largely impacts their overall health, including mental health, and success in life. Content is
adjusted to the age group and includes both
important and fun ways of learning resilience.
This presentation teaches students the following:
– Develop a positive mindset for negative circumstances.
– Build confidence through action in times of uncertainty.
– Utilize resources around you and within you to overcome.
– Learn to respond rather than react.
– Develop a plan for future adversity.
– Become a leader in times of crisis to help others.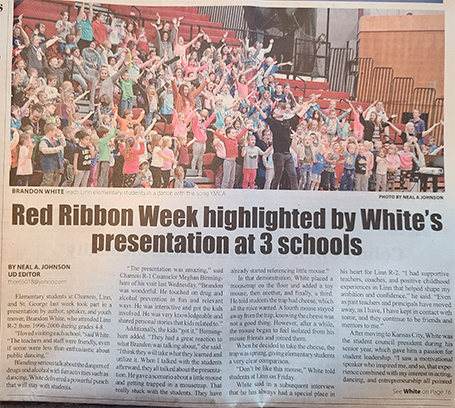 STEP IN STEP OUT
YOUTH BALLROOM
DANCE PROGRAM
(Grades 3-12)
Students learn SWING, MERENGUE, and
TANGO while developing CHARACTER SKILLS!
OPTION 1
Assembly Package
Kick-Off assembly speech
helping students transition to dance.

Group dance lesson (can divide into 2 groups)
OPTION 2
P.E. Package
Choose one grade or multiple grades to participate during PE classes (2-4 days)

Optional Graduation Ceremony

Optional Graduation Certificates
OPTION 3
Weekly Package
(Kansas City Area)
One of multiple grades per week for 4-6 weeks

Optional graduation ceremony and certificates
BOOKS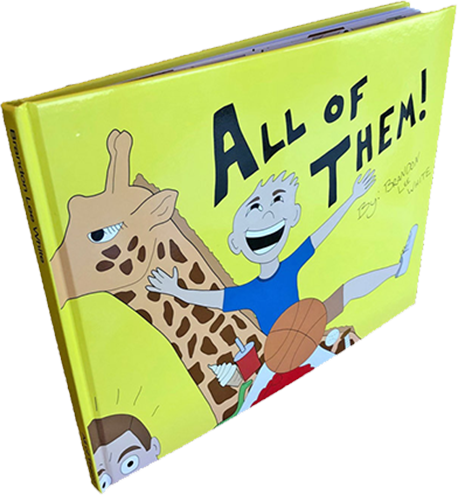 All of Them!
by Brandon White (Author)
Children's Book (Click HERE for preview)
Read about how a boy decides that "all of them" are his favorites, and watch how each scene comes to life with his favorite things. The boy has a great time making his father crazy by the messes left behind, but wait until his father gets him back… (Learn colors, foods, sports, animals, and more!")
All of Them! (Hardcover)