MIDDLE/HIGH SCHOOL PROGRAMS
TIP: HAVE BRANDON SPEND A WEEK SPEAKING TO YOUR ENTIRE DISTRICT AND SAVE BIG!
———————–
OWN IT DAY! (4-6 hours)
CLICK HERE TO VIEW OWN IT WEBSITE
INCLUDES:
Keynote Assembly Speech

School Activity

Student Leadership (STUCO) Workshop + Curriculum and Books

"Freshmen Wisdom" Novel for Freshmen Class (Optional)
1. SPEECH: Own It!
Move beyond what holds you back. Fear, doubt, hate, and excuses keep us from achieving, but the thing that holds us back the most is ourselves. Ownership starts with having a clear vision of who you are and what you want, and it requires inner toughness to make it happen. Expect lots of funny crowd interaction, thought-provoking examples, moving stories, and a powerful spoken word presentation. Students leave with a new sense of ownership in life and leadership and the motivation to make it happen.
Alternative Speech: What Are You Building?
What are always building. Maybe, we're building a reputation, a dream, or even building up frustration and anxiety. Each day is a brick we lay in the structure that is life. Learn what makes a truly awesome and strong structure that you can be proud of. Plus, Brandon shares lessons on his building successes and failures. Oh, and see if you can win the airplane throwing contest at the end. 🙂
2. CHOOSE 1 OR MORE WORKSHOPS (60 minutes) :
A. LET IT MOVE (THE DANCE WORKSHOP)
In this workshop, participants learn leadership through ballroom dance. Positive communication, risk-taking, teamwork, goal-setting, and discipline are all covered in a way that will stick in your memory. It's a fun and educational way to "break the ice" and get youth moving. This workshop can include total crowd participation or select volunteers depending upon request and space availability. (Maximum occupancy contingent upon space and sound equipment)
"You were able to take 300 students and form a team with a unified purpose! Getting an entire gym full of Teens to work together was phenomenal!"
—Superintendent (Pratt School District, KS)
B. THE "OWN IT" PERSONALITY TEST 
Have you ever wondered why you mesh with certain people and clash with others? In this workshop, participants complete the "Own It" personality test to help them increase personal clarity. Exercises and acting out real-life situations will make students laugh and help them make the most of their unique personality while effectively relating and leading others. They also learn to respond to "dark personalities" in a positive way to resolve conflict.
C. YOUR LIFE STORY
Students watch short clips from popular movies and are challenged with detecting the conflict, motivation, and resolution of each scene. Movie trivia is also included. Students are asked, "If your life is a movie, what conflict is your character going through, what's their motivation, and how would you like to see them resolve or overcome? What resources or other characters are you possibly overlooking? This workshop helps students step outside of themselves and examine their past, present, and future in a fun and enlightening way.
4. STUDENT LEADER TRAINING (1-3 hours)
In this training, student leaders are introduced to the "Own It Curriculum" and receive a copy of "Don't Be A Lamesauce". Participants work on assessing their strengths, opportunities, and challenges. Students also define goals and roles and participate in energizing activities to strengthen leadership skills. Students leave with a plan of action to "Own It!" in their school!
-Leadership books (physical copy) and workbooks (electronic copy)
-Training videos
-Promotional merchandise such as t-shirts and posters
-Polls and surveys to administer to fellow students to receive feedback.
5. Teacher In-Service (1-3 hours)
Brandon helps increase morale through team-building activities, personal engagement, and group achievement. Teachers also develop clarity on their personal objectives and purposes. Brandon utilizes lessons from 7 Habits, 5 Love Languages, and other resources. Teachers will be refreshed and refocused to lead youth.

POSTERS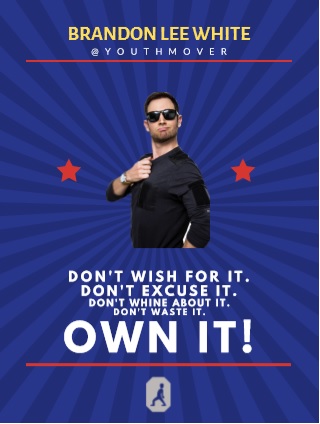 ---

DOWNLOAD THESE POSTERS FOR YOUR TEACHERS TO HANG IN THEIR ROOM. THIS WILL REINFORCE BRANDON'S MESSAGE AFTER HE SPEAKS AT YOUR SCHOOL. (DIFFERENT POSTERS FOR EACH CLASSROOM.)
---
Step In Step Out (K-12 Youth Ballroom Dance Program)
Grades 3-12
Students learn SWING, MERENGUE, and TANGO while developing CHARACTER SKILLS!
(If you are more than 1 hour away from the greater Kansas City, MO area, all lessons must take place and be completed within 1 week.)
OPTION 1:
6-Lesson Course for one grade*
Graduation Ceremony on Final Lesson
Graduation Certificates for all Students
OPTION 2:
8-Lesson Course for one grade*
Graduation Ceremony on Final Lesson
Graduation Certificates for all Students
OPTION 3: P.E. Package
Multiple Grades Participate During their PE Classes**
Optional Graduation Ceremony
Optional Graduation Certificates
*Usually weekly classes. Usually during P.E. but can be an after school program.
**Minimum of 2 classes per day, 5 days total (10 lessons)
Number of students per lesson can be up to 70 if space allows.